6300 - Kiwi Nesting Doll (Russian or Stacking Doll)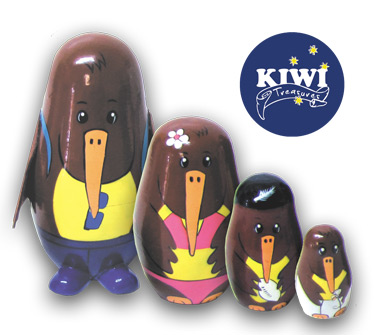 We are a family of four fun animals, each family member fits inside another.
Also known as stacking or russian dolls,
we are hand painted and have individual personalities.
New Zealand Families are loving by nature, we are also happy, friendly and very active.
Big Daddy wears the pants and carries a backpack which says "I love NZ",
Mum's wearing a bikini and has a flower in her hair,
the boy loves rugby and baby is in nappies.
How cute is that!
Kiwi Treasures serve to remind it's buyers of people, places, trips, events or a good emotion.
Most toys and souvenirs are made from plastic, PVC and petroleum based products that usually
end up in land fill. We are made from plantation Birch Wood, native to China. We are hand carved
with the aid of turning machines and then hand painted. We see ourselves as being much more
environmentally friendly than most.
Approx Size: 12 cm tall
ALSO AVAILABLE: 06301 Sheep Nesting Dolls