TANTRIX
THE WORLD'S MOST TWISTED PUZZLE GAME

Developed in New Zealand by Mike McManaway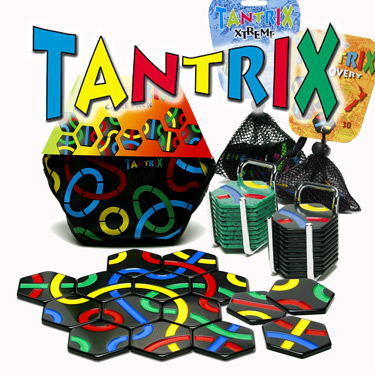 What is Tantrix ?

Tantrix is an elegant coffee-table strategy game from New Zealand. Its intriguing mixture of skill and chance makes Tantrix a fun family game, at the same time as being utterly addictive to the serious player. Tantrix also includes a comprehensive collection of solitaire activities such as the Discovery and Rainbow puzzles.
.
.
.
The Game Pack



Tantrix has become world renown as an elegant and addictive strategy game for 2-4 players. This edition, which came out in 2000, is called the "Game Pack" and represents 12 years of game development. It contains the award winning multi-player game and enough solitaire puzzles and activities to last a lifetime. The set consists of 56 unique black tiles, all numbered and colour-coded on the reverse side, a practical colour travel bag and a new edition of the illustrated activity guide. Inside you'll find :



28 Discovery puzzles

5 Rainbow puzzles

The Classics: Junior, Student, Professor, Master and Genius puzzles

The "Two Unsolved Puzzles"

Tantrix Solitaire

Tantrix Gobble

and of course the game of Tantrix Strategy for 2-4 players
Tantrix Puzzle Pack


This 14-tile pack represents the sweet spot for play value, especially for travellers and frequent cafe customers like the Inventor! Which is to say that for Solitaire Players, the value per cost, and value per weight are both maximised at 14 tiles.

The Puzzle Pack combines the best features of Discovery, Solitaire and Match with some amazing new twists. The total number of puzzles is 40, from easy to expert, and includes 26 "card puzzles". It also includes a new version of Solitaire and the "Ultimate Quest".

Two years in the making, Quest is the hardest Tantrix puzzle to date. With 87 billion combinations, it will take months or even years before anyone in the world finds a perfect solution. The Puzzle Pack has just gone on sale and the current Quest World Record is 10 consecutive attempts. Please contact us if you are close to breaking this record!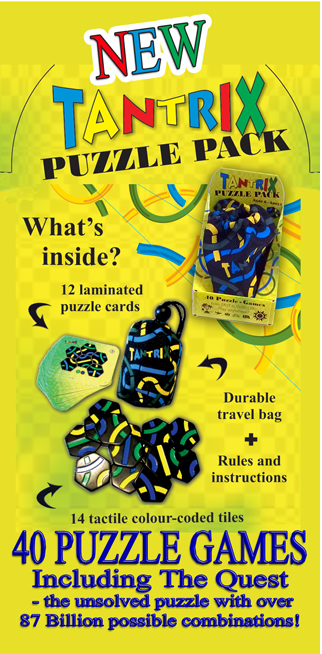 Tantrix Gobble


Tantrix Gobble is the latest version in the evolution of Tantrix, following on from the Tantrix Game Pack. It includes all the best features of the Game Pack, plus some significant improvements. The main addition is an interactive party game for up to six players. It is frantic, high-speed fun, rewarding quick thinking rather than careful strategy. Other improvements include: a friendly instruction booklet, a softer bag, and sculpted tiles which are easier to handle and pick up. Great for the whole family.






Interactive Gobble (up to six players)

Over 30 puzzles of varying degrees of difficulty

Tantrix Solitaire (improved rules)

Tantrix Strategy for 2-4 players







Tantrix Discovery






The Discovery is our most addictive puzzle creation yet! As a progressively challenging solitaire activity it was singled out from the Game Pack to provide the perfect introduction to Tantrix. The concept is simple: Ten tiles numbered on the reverse from 1 to 10. Start with three tiles, then slowly increase the difficulty by adding more tiles - it's guaranteed to hook you.





Contains 10 hexagonal tiles in a wood or chrome stand. The puzzle is designed to sit on your coffee table and drive your guests to distraction. Also available in a black mesh bag. The Discovery is the best way to learn about Tantrix concepts and improve your spatial skills. This is the one to start with!




Tantrix Xtreme


Tantrix Xtreme is a more fiendish alternative to the Discovery, mainly aimed at keen puzzlers or experienced Tantrix players. It contains eight Discovery-type loop puzzles with an extra twist: no colour clue is given for each level. Two new tricky pyramid puzzles are added that provide an even greater challenge.



Your aim is to build loops of various shapes and sizes starting with just three tiles. Each new tile added gives you a different and more challenging puzzle. Xtreme tiles come in chrome and wooden stands as well as mesh bags. Available with black tiles only.




Tantrix Match


Tantrix Match is a new puzzle concept designed to train your spatial and logic skills whilst providing heaps of fun. Match contains 13 unique tiles, a wooden tray and a selection of puzzle cards sequenced in order of difficulty from easy to extreme. There are lots of ways you can use your powers of deduction to help you find the solutions!

With over 22 million puzzles possible, the difficulty of each puzzle is determined by the number and position of pre-placed tile clues. To play, a card is placed into the tray, the starting tiles are copied and the puzzle is solved by fitting the remaining tiles to make all colours match.
Tantrix Match Add-On Packs




Three additional sets of puzzle cards are available for Tantrix Match. Each of those "add-on" packs contains 12 cards of increasing difficulty and is suitable for all ages. Student and Family packs are aimed at people without any prior experience at solving Tantrix puzzles, whereas the Expert set starts off at a moderate level and quickly becomes very hard, which makes them more suitable for Tantrix fans and puzzle enthusiasts.





Student Pack: Mostly easy to medium difficulty.




Family Pack: A range of difficulties from easy to hard.




Expert Pack: Mostly medium to hard difficulty.




Pocket Tantrix




A lightweight travel version of the popular Game Pack, inspired by the inventor's mountaineering friends. A full Tantrix pack weighs around half a kilo, and after carrying a standard set to high altitudes in the Himalayas, there had been demands for an "alpine" edition which just couldn't be ignored.





The new pocket edition contains all the puzzles and games of the standard-sized set, yet only weighs 120 grams. The tiles are still hand painted and made from a virtually unbreakable synthetic resin. It's handy size and light weight makes it the perfect set for posting or travelling overseas.